Vizlib Library
Designed for pixel-perfect dashboards and visual analytics for Qlik Sense
---
---
The Vizlib Library bundle is by far the most powerful dashboarding solution for Qlik Sense. The incredibly intuitive user experience that requires zero coding saves dashboard builders countless development hours and opens doors to game-changing customization opportunities.
The bundle includes;
 - Basic Charts

Up your data visualization game with advanced capabilities for the most popular dashboarding extensions, such as reference lines, custom HTML tool tips, benchmark bars, support for alternate states, customization backgrounds and more! On top of that, you get access to advanced analytics capabilities including forecasting and clustering.

Pie Chart, Bar Chart, Line Chart, Combo Chart, Scatter Plot

 - Advanced Charts

Vizlib's advanced charts combine beauty with functional prowess. Make your dashboards more dynamic with full control over interactivity options and rich formatting. Tap into the power of guided analytics by leveraging Vizlib Actions and dynamic visibility conditions. Don't stop at basic charts, elevate your Qlik Sense apps to new heights.

Sankey Chart, KPI Designer, Activity Gauge, Heatmap, Story Timeline, Venn Diagram, Mekko Chart

 - Components

With rich styling and formatting options, they can seamlessly blend in with your dashboard's unique design. And support for Vizlib Actions, configurable tool tips and the Vizlib Wizard makes these nifty charts indispensable to your apps.

Slider, Advanced Text Object, Calendar, Filter, Line Object

 - Navigational Elements

The Vizlib Sheet Menu allows you to create web app-styled Qlik Sense dashboards within Qlik Sense, completely removing the need for complex mashup development. While the Vizlib Container Grid, supporting a selection of presets and a responsive grid mode, greatly accelerates your build time and improves the functionality of your dashboards.

 - Tables

Our famous straight and pivot table extensions give you the power to arrange and visualize your data in a way that's easy to read, analyse and act upon. With added capabilities, such as HTML tool tips, dynamic column resizing, indicators, rich formatting and many more, you are in for a timeless love affair with tables.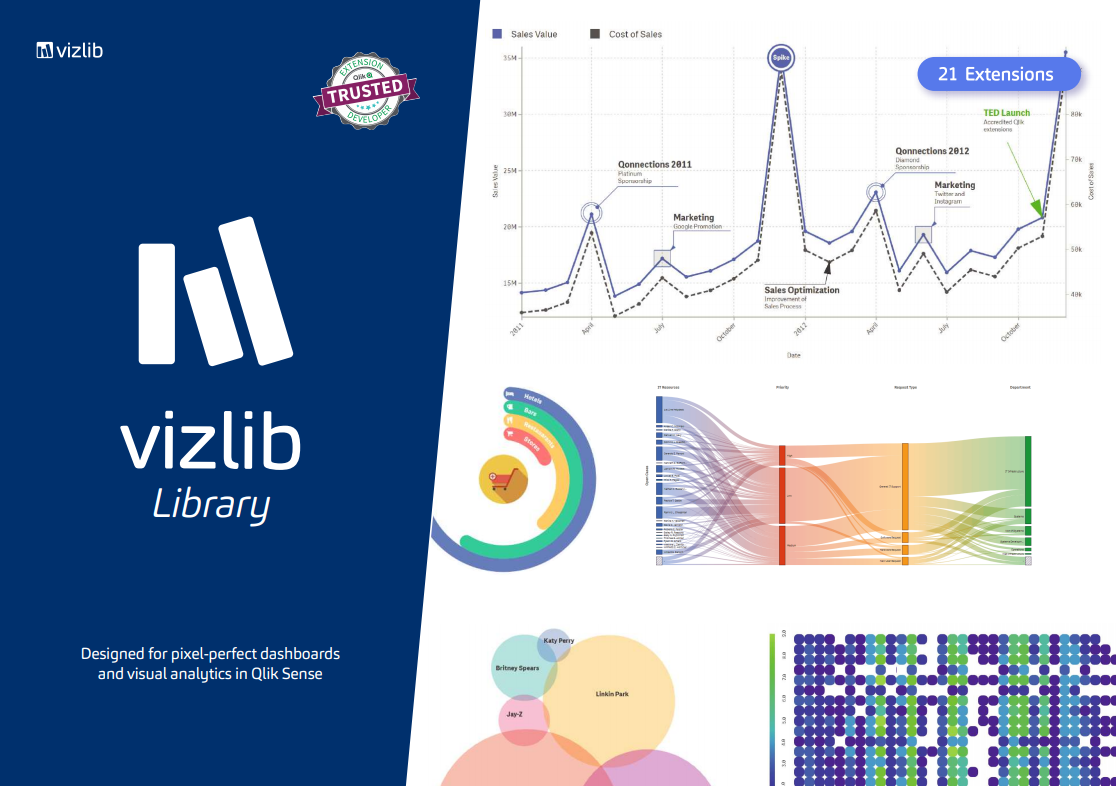 ---