Soterre by Motio
Take Charge of Your BI Implementation
---
---
Soterre for Qlik Sense
Without a built-in change tracking system, it is very difficult (and time consuming) to follow what changes have been made to your objects in Qlik Sense. Soterre version control tracks any changes made to Qlik assets, including data connections, streams, apps, and objects within apps (sheets, attached files, server files, etc.). This results in an audit trail and a better way of managing the change history of your Qlik content. Soterre gives you back time to actually analyze and make decisions off of your data. The time you previously spent on manually tracking and organizing changes.
Restore previous versions of content - Reduce time spent troubleshooting
Recover deleted/broken content - Minimize time wasted on recreation & rework
Compare versions side by side - Understand changes and pinpoint where errors may have originated
Obtain data-driven results faster – Waste less time working in a cluttered environment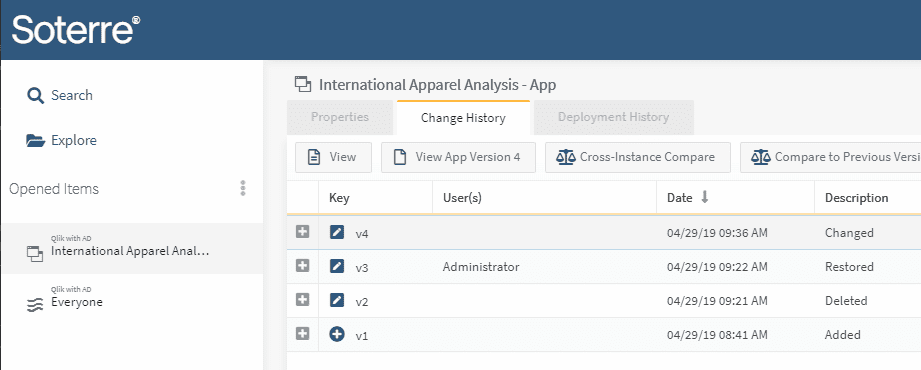 Deploying Qlik Assets
Soterre expands beyond the normal Qlik import/export functionality and deployment by:
Bringing greater customization to your deployments by selecting which bookmarks, stories, streams, or data connections are included.
Deploying on a more granular level by using tags to determine what is ready and prevent those that aren't.
---