---
What is Snowflake?
Snowflake is a modern data platform that was built from the ground up for the cloud. Their goal is to provide a solution that not only allows any users to work with any data, but has near inifinite performance and flexibility and almost zero management. With a pay as you use pricing model it is oone of the best data platforms to bring your company to the modern day.


A Cloud Data Warehouse that meet the needs of an ever-changing work environment
Snowflake's database storage uses cloud storage to hold any structured and semi-structured data. Within the cloud storage, metadata is easily extracted to truly understand your data, while the virtual warehouses computes queries from all of the data in snowflake's data warehouse. On top of it all snowflake's cloud services makes sure the data warehouse is secured and optimized. Snowflake allows organizations to store and analyze complex data in a efficient manner. 


The Architecture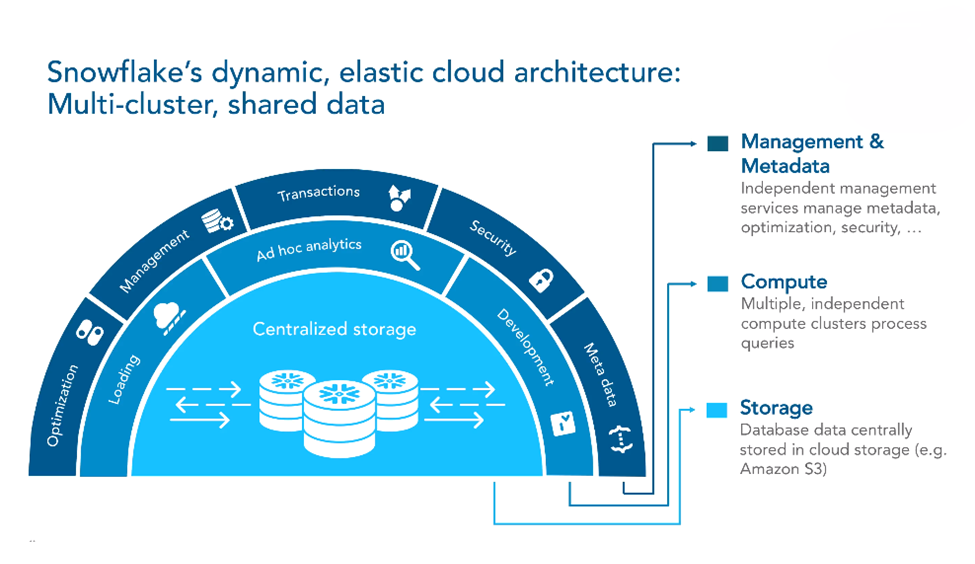 Storage
Built on scalable cloud blob storage, the storage layer holds all the diverse data, tables and query results for Snowflake. Maximum scalability, elasticity, and performance capacity for data warehousing and analytics are assured since the storage layer is engineered to scale completely independent of compute resources.  
Compute
The compute layer is designed to process enormous quantities of data with maximum speed and efficiency. All data processing horsepower within Snowflake is performed by virtual warehouses, which are one or more clusters of compute resources.
Services
The services layer for Snowflake authenticates user sessions, provides management, enforces security functions, performs query compilation and optimization, and coordinates all transactions.  


Key Features
Data to All Users
The data warehouse on the cloud allows for the data to be in one centralized place for usage by all users. With the cloud services there is zero management needed whereas traditional data warehouses and big data platforms requires a great amount of time handling infrastructure, optimization, availability, and other tasks.
Secure Data Sharing 
With the cloud services your data warehouse is secure and governed, ensuring users are only viewing the data pertaining to them. Create various relationship types between users and the data warehouse to make sure the data is secure and only is available to the intended users.
Cost Saving 
Only get billed for the time you used the warehouse and nothing more. With the ability to turn on and off the computation resources, users are able to adjust the cost based on the work they need. No need to deal with long term deals or other fees, and get billed only for the computing power needed. 
Enhance AI, ML, BI
With integrations with R, Spark, and Python the data in the cloud is more easily accessible to various machine learning and advanced analytics tools. Standard SQL is used to query the data in the data warehouse which makes it simple to migrate to BI platforms. 
---